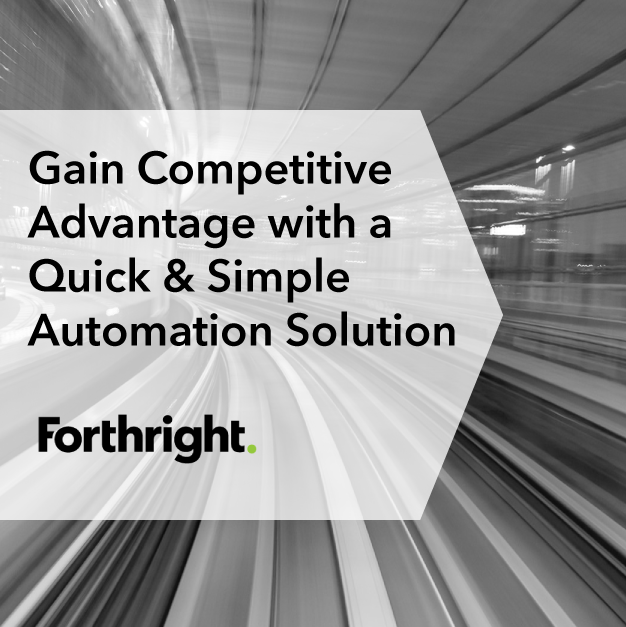 QuickStart
Fast Track Your Digital Transformation with Process Automation QuickStarts
Why Automation?
Forthright's Business Process Automation QuickStarts are a customizable solution that can help you streamline and standardize your processes to eliminate the paperwork shuffle and gain consistency across and within teams.
Start with our standard workflows for HR, digital sales, and vendor onboarding or create customized workflows for almost any department. Forthright's QuickStarts are designed to automate mundane tasks and document-heavy onboarding processes, ensuring consistency across documents and boosting team productivity.
Choose One of Our Pre-Built QuickStart Packages:
Human Resources: Automate repetitive manual tasks, such as data entry or payroll processing, to save HR professionals significant time.
Partner/Vendor Onboarding:

Make the process uniform and straightforward to create a foundation for a strong, long-term relationship.

Digital Sales:Streamline the sales process and eliminate wait time and missed opportunities.
Customizable QuickStarts: Apply the benefits of automation to any department or process within your organization.
Learn more about our QuickStarts, the airSlate solution, and how it has helped one of our clients:
Join our WEBINAR on Sept. 14th. CLICK HERE FOR MORE INFO
Invest in process automation to gain a wide range of benefits: Increased efficiency, Improved accuracy, Improved client satisfaction, Improved employee satisfaction, Cost savings, Scalability, Better visibility and control, and Enhanced compliance.